Going off-grid is sometimes a choice by living off-grid to get closer to nature or camping to enjoy the outdoors. But sometimes you may be off-grid due to a storm or some unexplained power outage.
A power station allows you to power your devices even though you are not connected to the grid. This could be while camping and you need to power your devices like your phone and laptop. But also in case of power outages that can leave you without power for hours and even days.
It can give you from 150 Watts up to 5000-watt peak and 100 watts to 2500 watt continuous with unit a weighing less than 135 pounds.
Power stations have evolved from the more traditional lead-acid types to the now modern lithium types.  Lead-acid were cheaper, heavier, and didn't last quite long.  Lithium came onto the scene and power stations became more stable, lighter, and could be recharged easier.  We cover this later in this article.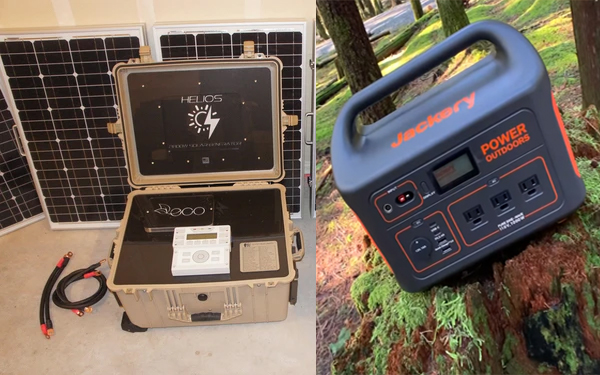 Lithium batteries come in different technologies; Lithium Polymer and LiFeP04 are the most used in power stations and power banks as energy cells and power cells. Lithium polymer has a high energy density and a better recharge rate than Lithium Iron Phosphate.  However, Lithium Iron-Phosphate are more stable, performs better in high temperatures, and can last over 2500 cycles compared to Lithium-ion.
Our Recommendations:
We touch on this and more later in the article.
Why are Power Stations Referred to as Generators?
A generator is a machine that transforms energy into usable electric energy for either immediate or later use. Typically, a solar generator will have a solar energy collection device (i.e. solar panels) which also converts the sun's energy into DC electric current. If that electricity is not needed right away it can be stored in the battery.
This is why a power station can be referred to as a Solar Generator. From the battery, the electricity can either be used in its DC form, or it can be routed through the generator's inverter for conversion to standard AC electricity. Generating AC power from DC power is the primary function that qualifies the term generator for this type of power supply.
Choosing a Power Station
The key details that are very important in a portable solar generator are portability, component quality, battery storage capacity, balanced system design, and solar PV input. Here are a few more details that can help in picking the best portable generators for home use:
Portability
The mobility factor must be given utmost importance. A portable power station will be a great energy solution for families who love camping or staying outdoors. These handy and small  can be a great choice considering that they can function efficiently and yet they do not take up a lot of space.
Solar PV Input
A Power station's biggest advantage is the ability to recharge with Solar Panels. This adds to the portability as you will be able to charge wherever you have access to sunlight and this includes the most remotest parts of the world.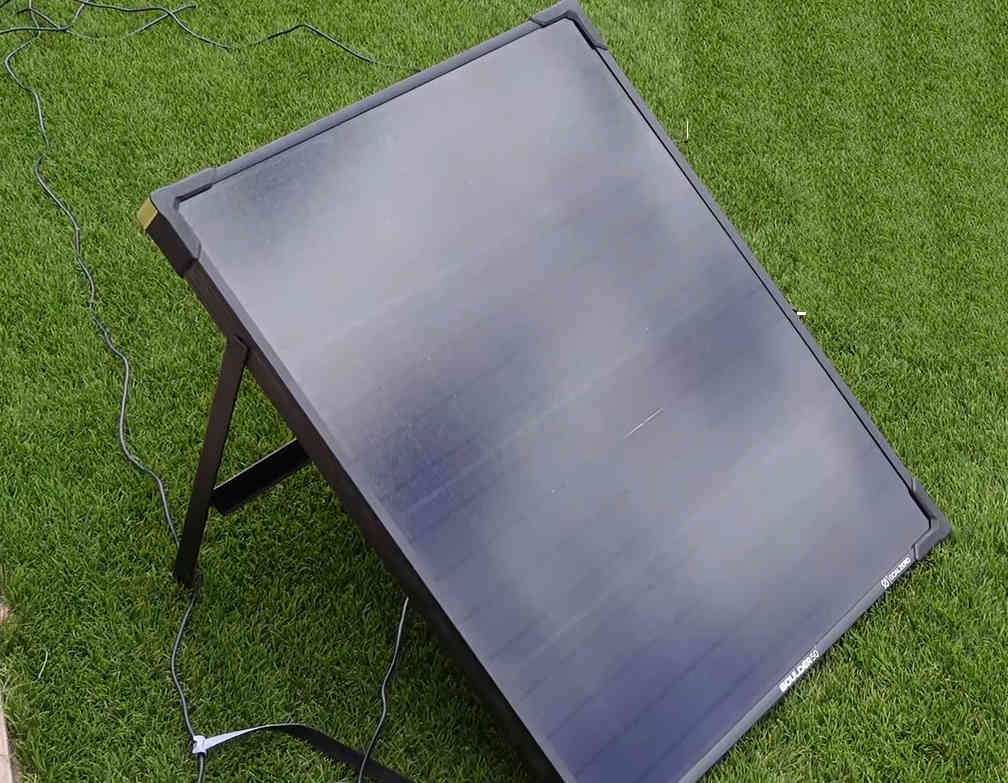 Balanced system design
The important combination for a balanced design for the generator system should have the following factors: solid PV input, usable storage capacity, and as well as an applicable inverter rating. The components of the solar generator must complement each other so it will function at its best level.
Having a balanced system design will ensure that the generator will last for a good amount of time which will give you the best value for your money.
Component Quality
Quality and durability are 2 essential components that you should find in a portable solar generator. The generator must not only be handy but it should also pass all the set quality standards to ensure its efficacy and reliability.
Battery storage capacity
An effective portable power station must have ample battery storage which allows the owner to use it even during times of limited sunlight or at night.
Power Required
If you are considering a portable solar generator the most important thing to determine first is the total amount of power you will require in order to run everything you intend to. Every electrical device requires a certain amount of watts in order to run.
Calculating the size of your generator needs to start with simply adding up all the wattage requirements of all the devices you intend to power.
To give you an idea, here are some typical household items and their approximate wattage requirements:
| Device | Wattage Requirements |
| --- | --- |
| Cell Phone | 5 Watts |
| Clock Radio | 8 Watts |
| Table Lamp | 40 Watts |
| Laptop | 70 Watts |
| 18 Cubic Foot Refrigerator | 120 Watts |
| Desktop Computer | 200 Watts |
| Microwave Oven | 1000 Watts |
As you can see, the size of the device points you in the right direction in terms of wattage requirements most of the time, but some items need a surprisingly high amount of watts to run. 
The other thing to keep in mind is how long your devices will run. During sunlight hours there shouldn't be any problem as your generator will produce what is expected. However, when there is no sunlight you should be aware of how much time you'll have with your devices if they are running off of solar battery power alone.
As you might imagine, the more watts a device requires, the shorter it will run on battery. If we take a 1,800-watt power station as an example, then the above 40-watt table lamp could run for about 10 hours if it was the only thing drawing energy from the battery.
Likewise, the desktop computer could only run for about an hour and a half. And remember, that's just by itself, with nothing else drawing from the battery. So of course this must also be taken into consideration when comparing generators.
You will probably want a more powerful generator than you would normally expect to use if much of your use will be during non-sunlight hours.
Bluetti EB70 716Wh LIFEP04 Power Station
The Bluetti EB70 is a Lithium-Ion Phosphate power station rated at 716 Watt-Hours.  Most power stations will be rated 250 to 500 watts-hours so it is a good capacity to have at its price point. The Bluetti EB70 comes in three color variants; red, black, and mint green.  It is rectangular in shape with curves at the corners and edges and covered with polycarbonate plastic. A padded plastic handle folds down into the body making it easy to store.
Slightly heavier than most power stations it comes in at 21 lbs (9.7 kgs). This of course is due to the LiFePO4 battery which comes with other benefits.
On the top of it has a 15W wireless charging pad. On the front are two three-pronged AC outlets and two two-pronged AC outlets.  On the right of the AC, outputs are the DC outlets with a car charger, two DC parallel ports, two USB 3.0 ports, and two USB-C ports.  You'll also get a LED light with three settings (SOS, Half Bright, and Full Bright)
On the front of the EB70, you'll see a bright LCD display that keeps you posted on the current status of each cell.  Though I have to say they can do more on the display as it doesn't show the percentage and will go off and you need to press the power button.
The Bluetti can power almost all your portable devices including a MacBook Pro, a Phone, a small portable fan and you can add on a small blender. It can also run a 12v refrigerator for up to 60 hours and a TV for around 6 hours. It will not run a hairdryer, electric grill, or any devices rated above 700w.
You have three options when recharging, a 200-watt solar panel, the AC Power brick, or through the Carport. It does support pass-through charging meaning you can use it while charging. The 200 Watt power brick is the fastest way to charge it, and also the noisiest because of the inbuilt fan.  The power brick fan is actually noisier than the power station fans.
Owing to the LiFePO4 battery you can enjoy up to 2700 life cycles on this power station. This means you can discharge and recharge up to 2700 and lose just 20% of its capacity. Not many can give you that kind of service.
Advantages
Pure Sine Wave Inverter
2500 Lifecycles
100 Watt USB-C Port
Supports Pass-Through Charging
Disadvantages
Noisy Power Brick
Jackery E240 240Wh Lithium-ion Power Station
Perfect for usage at camp or at home, when power outages occur, this practical model will take you off of the grid and it won't be noisy or smelly. It's the perfect modern generator for Eco-conscious consumers and its price is very affordable in light of its high quality and its impressive array of sensible features.
The Jackery E240 can give a power output of 8-12 W over more than 12 hours. That means it can power a small 40W TV for a 5 hours, a 5 Watt LED light for 40 hours, and charge your phone for several days. It can also charge a small camping fridge.
Another advantage of the Jackery e240 is that you can easily recharge it by plugging it into the 12V DC Carport, using a solar panel, or using the 110 V AC power charging cable at home.
Its LCD display provides input wattage, output wattage, and current battery charge level. It has two 5 V DC (USB), 12 V DC and 110 V AC outputs.
Compact, yet powerful enough to offer plenty of power when you need it most, this dependable unit is also very simple to use. It is also affordable that you can consider buying two units to push up the power to 500wh.
Advantages
Easy to Carry
DC and AC outlets
You can power and charge at the same time.
Not pricey
Disadvantages
Slow Charging: Whether on Solar, Car or AC it takes its time to charge.
Jackery have different models that you can choose from depending on your power requirements. If you power requirements are more than 250 Wh you can upgrade to the Jacker 500 or the Jackery 1000 to power high wattage devices. 
Rockpals 250-Watt Portable Generator
 The Rockpals generator is an inverter-shaped lithium-ion power station that is rated at 250 watt-hours. It has two AC ports, two 5v USB ports, and 15V DC output on one side and four 12v DC outputs on the other which also has the fan and the power switch. The three-pronged AC ports are Pure Sine Wave making them as safe and stable as you can get from any wall unit.
Easily portable with a handle on the port it weighs just around 5 lbs making it a great companion for the outdoors. If the battery is depleted you can recharge via a 60W solar pane or Car 12v socket. It should take around 8 hours to fully recharge from the AC input.
Unlike the Jackery which has an energy-saving option that powers it off. This is a great option for CPAP machines and you use it on the AC or DC outputs.  It can run up to 7 hours on AC and up to 20 hours on DC.  However, it will not power a CPAP with a dehumidifier turned on. This means you can be confident enough of using it off-grid to power your CPAP machine for more than 3 nights without needing to recharge it. 
Advantages
Light Weight and Easy to Carry
Pure Sine Inverter
MPPT Controller
Support Pass-Through Charging
Disadvantages
RAVPower Battery Bank Power Station
The RavPower is a small device measuring 5 inches wide and 7 inches tall equipped with outputs that power up your portable devices. This tower-like portable unit weighs in at 7 pounds with a capacity of 250Wh.  It comes with a padded carrying case and a removable carrying strap. The case has conveniently and neatly laid out compartments that fit everything without a hassle. 
At the top are the two 110V AC outlets with 200-watt Capacity each, however, they are two-pronged and not grounded limiting some applications. There is also a button that needs to be pressed to activate the AC outlets before connecting. The AC LED indicator should light up and the AC outputs should work. The outlets also have flaps to cover them from dust.
On the left side is the 60 watt PD output and input, a 12V DC Car Charger Outlet, an 18 Watt USB-C fast charging outlet, and two USB A outlets.  You can recharge it through a 60 Watt Panel or the 39 watt wall outlet through the DC input at the back.  You can also use the USB-C power delivery at the front.
With the RAVpower, you'll access 250Wh capacity that can recharge your phone up to 21 times, your laptop up to 6 times and a CPAP for 3 to 5 hours. It can charge up to 5 devices at once and supports pass-through charging.
Advantages
Light and Easy to Carry
Multiple Ports for different Devices including USB-C
LED light to indicate charge
Disadvantages
Two-pronged AC outlets
Allpowers Monster X 1500Wh Power Station
If you're in the market for a high-end solar generator with all of the "bells and whistles", you'll likely find this All powers brand design appealing. The Monster X is crafted with an attractive silver-and-black finish and it's big enough to offer significant power at camp. It comes with four AC ports, two type-c ports, and a car socket.
This design features the right system for powering up an array of items, from lights to tools to fridges to freezers to medical equipment, and can even power up your Tesla.  With a surge capacity of 3000 watts and a continuous capacity of 2000 watts, this unit can power what most power stations cannot include coffee makers, hairdryers, microwaves, and power tools. In addition, it provides the ultimate in whisper-quiet performance, without any fumes.
You may use this model inside or outside and choose from three power sources (solar, wall or auto). And you can actually charge it with four different sources simultaneously in just under 4 hours. Not bad for a 1500wh unit. The LCD display will show you the state of charge with port usage indicators. And to add to this is the remote display option that connects to your phone so that you can monitor the station remotely.
While it's more expensive than many generators, it offers a great deal of bang for the buck, so it's a great investment for those who want more power via a solar-style generator.
You can get this from the Allpower store here
Advantages of the Lithium Battery Power Station
Power Station can either come as Lead Acid or Lithium Powered. These batteries are referred to as rechargeable deep cycle batteries are used in most-Solar Power Systems setups. However the new Lithium battery is becoming the battery of choice for many reasons and it is also why we have a biased towards lithium battery power stations:
Lighter weight.
When it comes to weight, the Lithium battery wins hands down. It is typically half to one third lighter than the original lead-acid battery weight (for an equivalent run time/capacity lead-acid battery bank).
Higher electrical efficiency.
The Lithium battery has a much higher electrical efficiency compared with lead-acid batteries. LiFePO4 lithium batteries are typically 98% charge efficient compared to between 70% and 85% with lead-acid batteries. They also have significantly faster charging times than lead-acid batteries.
What this means is the Lithium battery will charge not only more efficiently, but more quickly than a lead-acid battery. This can be particularly important in situations with limited charging methods available, such as from solar panels.
For example, camper van owners have reported that their LiFePO4 batteries are fully charged from solar panels by midday compared to 4 to 5pm using their old lead-acid batteries.
Longer working life.
While good quality Lithium batteries such as C&C Power Supply batteries are far more expensive to buy and set up initially, the actual cost of ownership is considerably cheaper than lead-acid batteries (calculated in terms of cents per charge cycle).
Constant Voltage.
In a lead-acid battery, voltage will continue to drop over time as the internal circuit within the battery will self discharge. This forces the connected electrical device to eventually shut down at its minimum operating voltage. In the Lithium battery, however, voltage tends not to drop under load until the battery is almost depleted.
For example, an ignition coil in a motor vehicle will have a consistent spark due to the battery's ability to delivery a consistent voltage. This means electrical equipment tends to run more efficiently as they are receiving constant voltage. Ultimately, using Lithium batteries gives electronic equipment a longer working life before failure than the lead-acid battery option.
Faster recharge.
Expect to spend much less time recharging Lithium batteries than lead-acid batteries.
Eco-friendly.
Lithium batteries are the safest batteries for consumers and the environment. Internally, they do not contain corrosive sulfuric acid or any toxic heavy metals such as lead or cadmium which can be environmentally harmful if leaked.