Except for maybe, a few most people won't use their bikes for all the seasons and definitely not in the winter season. But leaving your motorcycle unused for a long period of time and you will get a flat battery. This means that it will not be ready to go and you'll need to jump the battery.
A battery charger will help you keep the battery topped off and ready to go even after a long period of storage. You can find three types in the market; a trickle charger that converts AC to DC and slowly charges a battery, a float charger that keeps the battery topped off, and a smart charger that can charge a depleted battery.
These chargers come in a variety of power and specifications and applications are different for Lead Acid, Gel, and Lithium batteries. It is important you have the specifications for your battery.
Can Solar panels charge a Motorcycle battery?
The answer is yes, you can charge your Motorcycle battery with a Solar panel. The biggest advantage of using a solar panel is that you won't need a power source other than the sun. This means that you have your motorcycle stored away in the shed and still have it charging.
A 10-watt Solar Panel can provide a maximum current of 0.55 amps to charge a small 12V motorcycle battery in 4-5 hours. A 50-watt panel can do it in 1-2 hours. This is of course dependent on the availability of direct sunlight.
A small 5-watt charger will provide a trickle charge to maintain your battery while in storage and prevent a dead battery on your bike. You will need a charge controller to protect your battery from overcharging.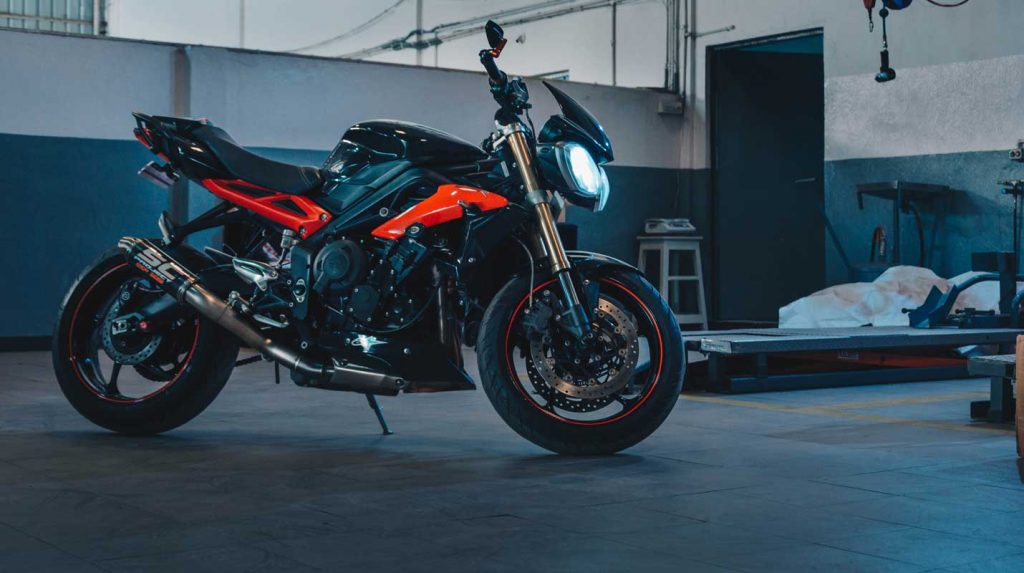 How to Set Up a Solar Panel Charger
There are chargers in the market specifically designed to charge your motorcycle or bike. A good example is the solar battery tender that can actually be mounted on the bike handlebar. These ones are easy to set up and just require the panel to be placed where it can get sufficient sunlight
You can also buy a single panel rated between 20 – 50 watts and it will provide charge for your motorcycle battery and even power your lights for your cabin as well. But you should never use a Solar panel directly on your battery this is because;
OverCharging
An unregulated solar panel can easily overcharge a battery if it is continuously driving amps to the battery.
Reverse Charging
Because a solar panel works during the day at night the potential difference may cause current to flow from the battery to the charger killing the battery.
To protect your batteries always ensure you have a charge controller. A charge controller will regulate the current from the panel going to the battery. The controller will have different settings for Gel, AGM Lead acid batteries. You can also find a charge controller for specific use with lithium batteries.  Always make sure to use the recommended settings from the manufacturer.
The following are the steps to follow when connecting your motorcycle battery to a solar panel.
Remove the Batteries
It is generally recommended to remove the batteries while charging. This is mainly to prevent it from damaging other parts of the motorcycle while charging. This might not apply if you are using a float or trickle charger.  Make sure you follow the directions as per the manual when removing the battery and take all the precautions.
Once you gain access to the battery identify the negative and positive cables. Disconnect the negative cable and then disconnect the positive cable. Make sure there are no other attachments and then remove the battery.
Connect the Charge Controller to the Battery
When using a Charge Controller the battery should be the first thing you connect to the Controller. You should NEVER connect a Solar Panel to the Controller without a Battery. The charge controller should be clearly labeled for 'BATTERY + and -' make SURE the polarity is correct.
Connect the Solar Panel to the Charge Controller
Once you have connected the battery now connect the charge controller to the solar panels. The charge controller should also be labeled for a 'PV INPUT + and -'. This is where you hook up the panels. Make sure not to mix up the positive and negative Positive (+) is usually red, while negative (-) is usually black. If you are not sure you can check polarity using a multi meter.
3-Stage Charging Using a Charge Controller
A battery charge cycle describes the voltage and current relationship and can be broken down into stages. A charge controller will allow you to set how you want your bike battery to be charged. You can pick from the 3-stages depending on the level of charge of your battery or your battery type.
The three stages are; bulk, absorption and float and are applicable to Wet, Gel and AGM Lead Acid batteries.
Bulk Charging
Bulk charging is the normal battery charging that provides a fast charge. To provide a fast charge sufficient sunlight must be available and the battery must have been deeply discharged.
Absorption Charging
The Absorption stage is where the battery slows down the amps going in the battery once a certain voltage is reached.  It is conditioning mode to step down the charging but allow the panel to complete charging.
Float Charging
At the float stage the battery is full and is only being topped off with a small charge to compensate for the idle discharge.
Equalization
Some MPPT Chargers will routinely (once a month) apply an equalizing charge. This is the intentionally overcharging of Lead Acid batteries to remove sulfate crystals that build up on the plates over time commonly referred to as sulfation.
Charging more than battery in parallel
If you have more than one bike battery that you want to charge you can connect them in parallel and connect them to a solar panel through a charge controller.