This post contains affiliate links and We may qualify for a commission if you use them
Car Batteries naturally discharge when not in use. This is a small but constant drain that if overlooked may drain completely and become dead. This reduces the battery lifespan and you will have to jump-start the battery to use it again.
Modern vehicles have upward of 30 body control modules (computer), alarm system immobilizers, and lock monitoring. These devices accelerate the drain on your battery.
If you don't use your car often or leave it in the garage too long, you may find a dead battery. A solar car battery charger will charge your battery when not in use and maintain the charge.
Solar chargers quite simply require the sun's rays to start charging your batteries and should be positioned in a place wherein they can obtain the greatest amount of sunlight.
They also give you the chance to charge your car batteries without having to connect to an external source of power. But because light intensity can change over time and the battery can be fully charged some protection is necessary
Why you need one with a Charge Controller
Solar Panels over 5 watts (and occasionally the actual 5 watts) need a charge controller to cope with the output, and to stop overcharging your battery. For larger 12v batteries with more than 20Ah, this should not be a concern. However, if you plan to leave the charger connected for days; this will give you the comfort and confidence to leave it and not worry about it damaging your batteries.
Below we have listed some Chargers for various uses with overcharge protection. But we highly recommend the Suner Power 12v Charger.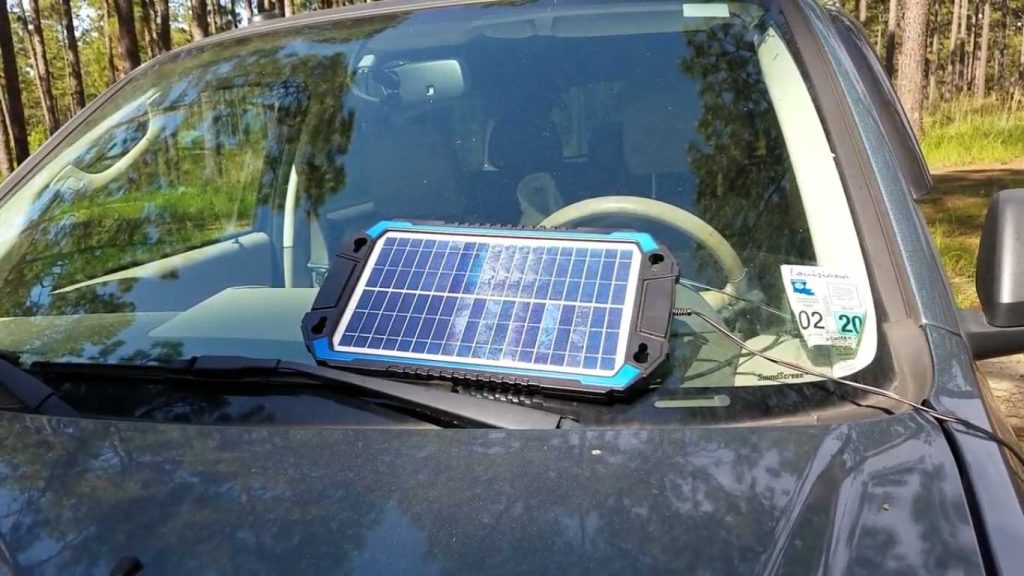 Other Features of a Good Solar Car Battery Charger
This is what we looked at when choosing the solar charger.
Easy Mounting
A Solar Charger must be directed towards sunlight in order to charge. The best placement for a car outdoors will be the windscreen. Suction cups that allow easy mounting on the car's windscreen.
You can also just place it on the car's dashboard if it will have access to light. If your car is not parked outside ensure you have long cables that allow you to mount it where you can get sufficient sunlight.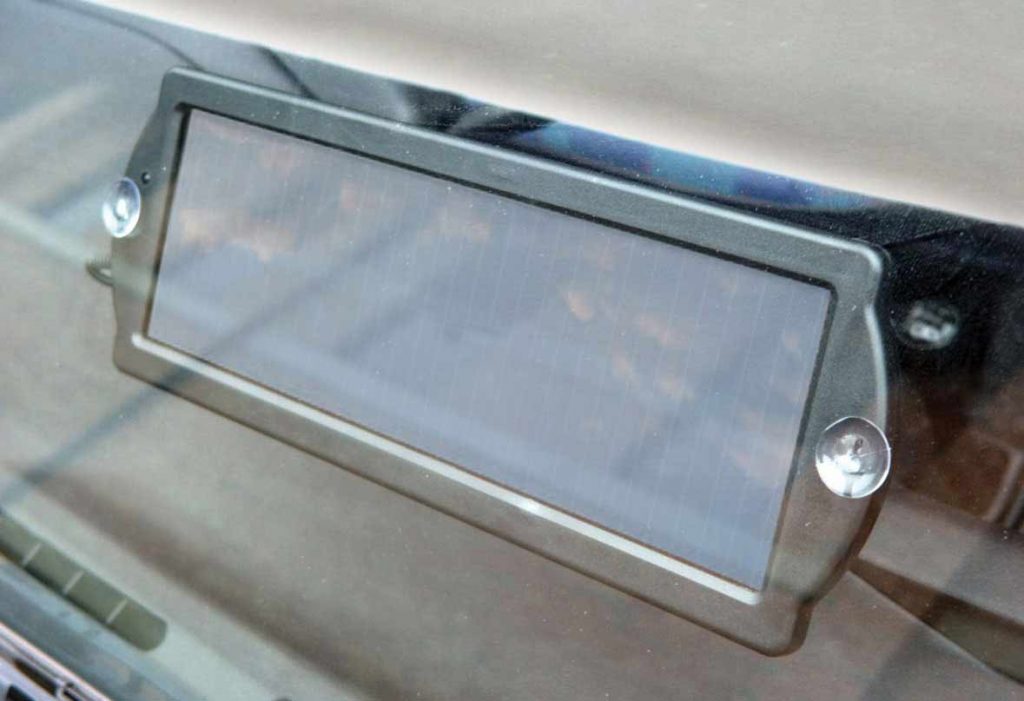 Efficiency rate
Solar panels are known to be inefficient this is that they don't convert so much of the sunlight to electricity. Monocrystalline solar panels allow for charging in low light and cloudy conditions and will give you the best conversion rate of around 21%.
Covered in tempered solar glass
Tempered Solar Glass allows for better protection of the Solar Panel and can protect the solar panel from wear and tear from bad weather conditions. This is especially important if you will be placing the panel on the outside.
Interchangeable clamps and Cigarette Cable
The charger should come with a connection cable, cigarette lighter, and bare connector. Some cars will automatically work when connected to the cigarette lighter port but if that doesn't work you should be able to use alligator clips to directly connect them to the battery for charging. More on that later in this article.
LED
An LED light that indicates the flow of current is a feature that enables you to know whether the charger will charge your battery. This will save you from a lot of disappointment having connected the solar panel to the battery only to find it not charged.
If you aim the panel at the sun the LED should turn on to prove it is generating a current.  You can also plug into the lighter socket when the panel to disconnected to check that the socket is live.
Blocking Diode
It is important so that the Solar Panel charges the battery and does not drain the battery at night. A blocking diode prevents reverse charging.
How we tested for reverse charging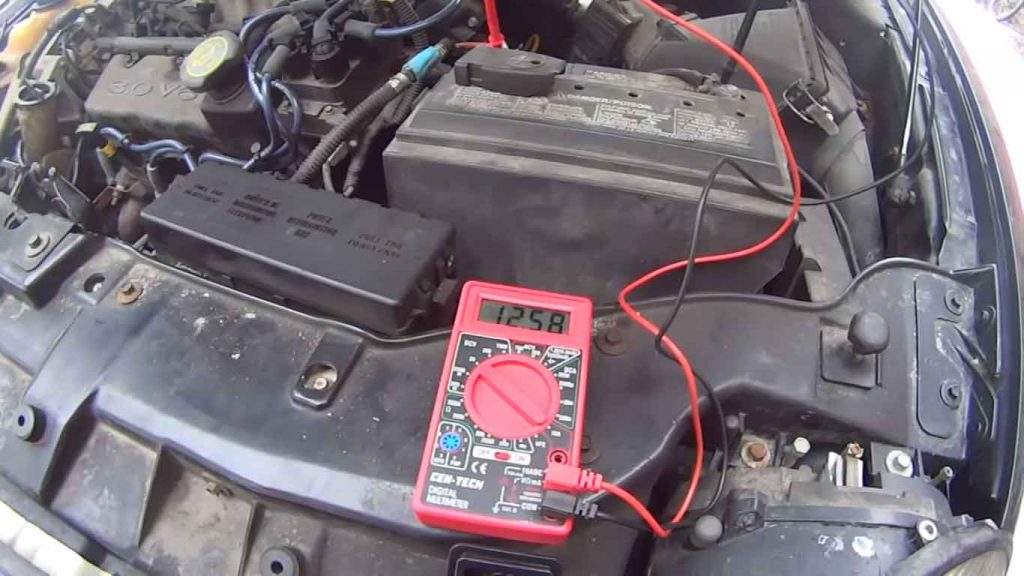 Using a multimeter set to continuity measure we tested the solar charger.  We did this by connecting the leads via the positive clip to the multimeter.  By doing this you trying to see whether the current is flowing towards the solar charger. There was no continuity. When the leads are connected the other way there was continuity (Positive lead to the negative lead).  Meaning there is flow towards the battery.
Although each is good in its own way. We have ranked from number 1 to number 5 according to the factors listed above.
1. SUNER POWER 12V Solar Charger & Maintainer
Advantages
Small size allows it to be used on the go.
MPPT Charge controller
Waterproof
Blocking diode to prevent reverse charging
Suction cups plus screws and anchors for mounting
Disadvantages
Cannot charge devices like phones and laptops
The top spot we have given to SUNER POWER 12V Solar Car Battery Charger. And for good reason, the small compact good quality solar charger keeps your battery topped off all season.  
It is a well durable well-made high efficient crystalline solar panel with tampered glass around it. The inbuilt MPPT Controller ensures maximum conversion and battery protection.
It also comes with suction cups, screws, and anchors for mounting.  The screws and anchors in addition to the 2.4m cable allow for mounting away from the car especially if your car is parked indoors and you need to place the panel where it can get sunlight.
It comes with a plug and plays connector (2.4m cable (3 pcs of 0.5m connection cable, cigarette lighter, and bare connector). You can connect it to your battery via the cigarette lighter or using the long cable you can connect the charger to the battery terminals using the clamps.  
2. Sunway Solar Trickle Charger
Advantages
Waterproof
Doesn't need direct sunlight
Cost
Disadvantages
For Batteries that are over 50ah
if you are looking for a budget option then the Sunway Trickle charger is the one to go. It uses amorphous technology that allows it to work in cloudy conditions.  It is covered with clear PV glass and with Durable ABS plastic housing which makes this solar panels charger stronger.
However, you should be cautious with this charger as it doesn't have a charge controller. The overcharge protection only applies to batteries that are over 50ah so make sure to check your car battery rating. Otherwise, this is safe to use for most trucks and RVs.
It is low maintenance and waterproof. It has a built-in diode to prevent reverse charging from batteries. Its blue light LED indicator to show when charging.
3. Allpowers 60 Watt Foldable Solar Panel
Advantages
Two USB ports, DC and 12V output
Foldable and portable
Charger for Phone, Laptop and Car battery
Charge Controller
Disadvantages
Price
No suction cups for windshield
If you are looking to go solar why not just have 3 in one solar panel without having to buy a different panel for different uses. The Allpowers 60 Watt Foldable Solar Panel is the one for you. This high-capacity solar panel will allow you to charge your phone, laptop, power station, and even your car battery.  
It is also a great addition for emergencies as it can give you up 6 amps per during sun peak hours or 30 amps a day.  This translates to around 240Wh on 4 hours of direct sunlight per week.
The two USB ports are rated 5V and have an output of 2.4 amps per port. You can charge two devices with these ports. The DC output has a voltage of 18V and an output of 5amps this comes with a variety of connectors compatible with most power stations and laptops.
The 12V output allows you to charge your car battery through the alligator clips. So when camping with your car you won't worry about being stuck with a dead battery as you can use the panel to charge your battery.
Being a foldable panel it easily folds up to a suitcase allowing for portability and easy storage and it weighs just around 4lbs.
4. Eco-worthy 25 Watt Solar Battery Charger
Advantages
Cost
Works even on cloudy days
Disadvantages
Needs constant wiping as it gathers dust easily
The Eco-worthy Solar Panel kit is a Waterproof 25 Watt Solar charger. It also comes with a sturdy design that is dustproof and waterproof.  It comes with plug-and-play SAE connectors that are easy to install and free of maintenance.
It also comes with a 3A USB Charge controller with an indicator for charging and discharging.  
This is also a great starter kit that is easy to install with plug-and-play cables with a pre-attached cable on the solar panel.
5. Solperk 12V Solar Panel Trickle Charger
The SOLPERK 12V Solar Battery Charger and Maintainer is a High quality amorphous solar car battery charger that uses thin-film technology and it can work in any weather. It comes with 4 suction cups a cigarette lighter plug and a battery charging clip line.
It is weatherproof and is covered with a  durable ABS plastic case. It has a built-in blocking diode to prevent reverse charging and battery reverse discharging. The blue indicator lights up when charging. The product is light and easy to install for inexperienced people
How to Use a Solar Car Battery Charger
Charging your vehicle battery with a solar trickle charger is easy and can even be done on a continuous basis. Just connect the device and leave the solar panel on your car's dashboard. You will probably forget it is even there. It can be for new or old vehicles, it does not matter. As long as your vehicle has a cigarette lighter and a battery you can use a solar battery charger. You can also use alligator clips to hook on the batteries directly.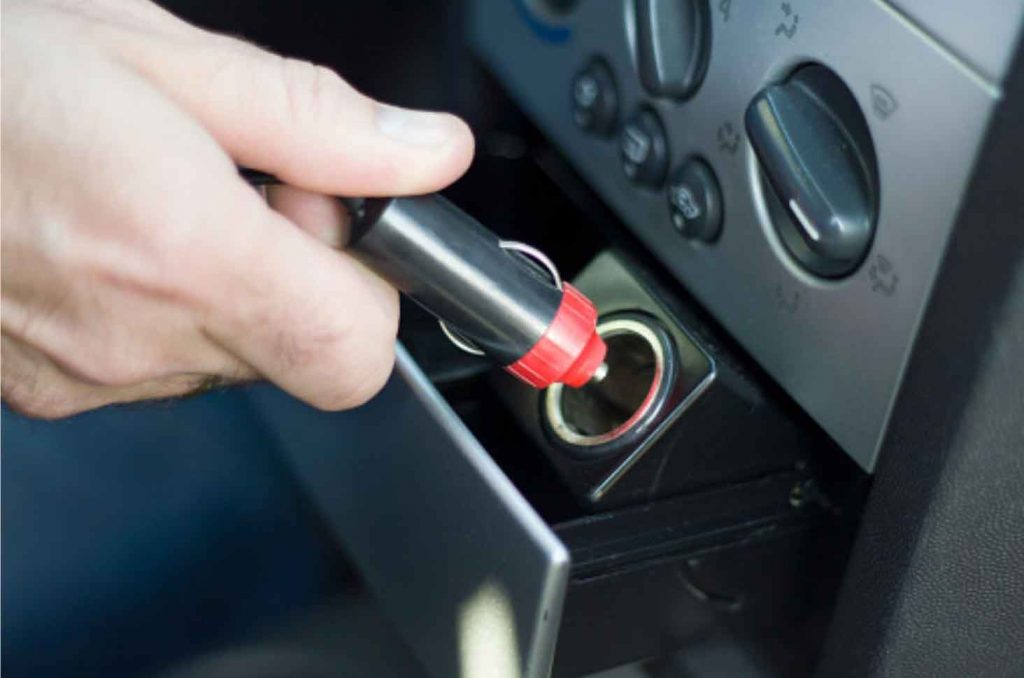 You do not need to have special technical abilities in order to use an auto solar charger. It is as simple as these three steps:
Take the charger out of the box
Set the solar system on the dash of your vehicle
Plug the cord into your cigarette lighter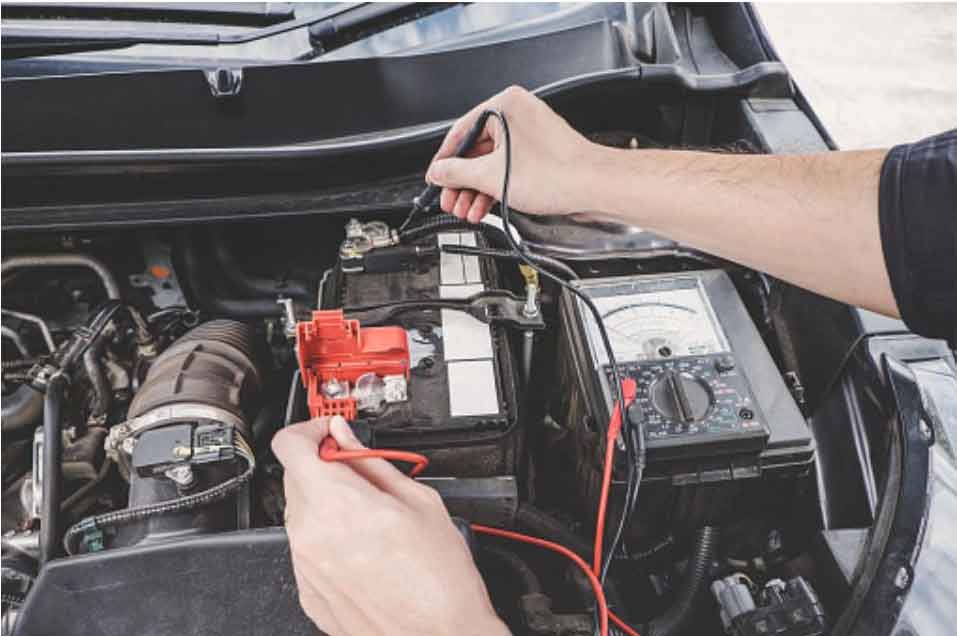 Mount a panel on your windscreen where it sources out enough sun rays. Others position it on the dashboard with its suction cups to put it in place. You can do this with your car's lighter socket.
Alternatively, if this doesn't work with your car use an alligator clip that comes with the charger and connect it directly to the battery. Its panel provides a stable maintenance level charge to your car's battery to ensure that your battery remains fully charged even if you don't start your engines daily.
Now, doesn't that sound simple? Your car battery will receive energy from the sun through a trickle charging system. That basically means, as the sun hits the solar cell, energy will be transferred to the battery of your car.
Battery Charge Cycle
To understand where a trickle charger comes in you need to understand a battery's charge cycle. The voltage and current relationship in a battery is what is referred to as the battery charge cycle.  The lead-acid battery charge cycle can be broken down into three stages; bulk, absorption, and float.  This charging cycle applies to Lead Acid batteries including Wet, Gel, and AGM Lead-acid batteries.  Lithium batteries don't have the absorption stage and jump from bulk to float.  
Bulk Charging
Bulk charging is the normal battery charging that provides a fast charge. This is charging a deeply discharged battery to bring the voltage up as fast as possible. The maximum amount of current is applied in this phase.
Absorption Charging
When the battery reaches about 70-80% charge it goes into the absorption stage. The Absorption stage is where the battery slows down the amps going in the battery as it cannot take in a lot of currents.  It is conditioning mode to step down the charging but allows for complete charging.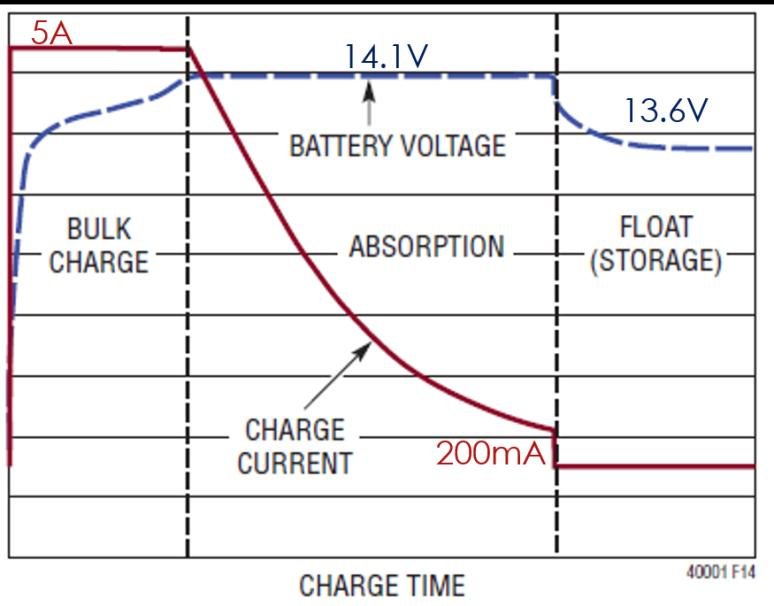 Float Charging
When the current through the battery decreases to a small percentage of the maximum current at the bulk stage. At the float stage, the battery is full and is only being topped off with a small charge to compensate for the idle discharge. This is what is referred to as trickle charge though it may be applied to a battery that is not full.
How to Use a Solar Trickle Charger
A trickle charger is really easy to use and anyone can use one. A solar trickle charger is even easier to use. To operate, simply place the solar cell on your dashboard and plug in the cord to your cigarette lighter socket or OBDII connector on some. The LED light will turn on and your car battery will be receiving power from your charger.
You can also use the alligator clips on the end of the cable to directly connect to your battery. The alligator clips will be indicated for the positive or negative usually red and black. You can leave a solar trickle charger on your battery indefinitely as it only applies a small charge during the day and will not be charging during the night. A blocking diode blocks reverse charging i.e current flowing the battery to the solar panels.
A Solar trickle charger can be used on cloudy and even during winter as they do not require much sunlight in order to operate. A 5-watt solar panel can be used to trickle charge your car, boat, and even RV battery i.e batteries over 50 ah without the need of a charge controller.
However, if you have a solar panel with a higher wattage a charge controller is a must. A charge controller will protect your battery from overcharging while allowing you to enter custom settings to suit your battery.
Let's look at how you can set up your controller
Setting Up a Charge Controller for Trickle Charging
Connect the Battery
Make the connection using the alligator clips or the O-ring terminals by connecting the red (positive) cable to the red terminal first. Then connect the black (negative) to the negative terminal. You should NEVER connect a Solar Panel to the Controller without a Battery.
2. Connect the Charge Controller
The charge controller should be clearly labeled for Positive and Negative ('BATTERY + and -'). This is where you hook up the batteries. 
3. Connect the Solar Panel to the Charge Controller
Once you have connected the battery now connect the charge controller to the solar panels. The charge controller should also be labeled for a 'PV INPUT + and -'. This is where you hook up the cables from the panels.
Check the Indicator
The controller will have an indicator to show that it is receiving a charge from the Panels. Once connected you confirm you can leave.
Set Controller to Float/Trickle Charge
Charge controllers have three settings for Lead Acid batteries; Bulk, Absorption, and Float.  Some controllers will have a button that you can continuously press in order to set it to Float. Other controllers will have an interface were you can set to float while some have applications with Bluetooth capabilities that you can set from your phone or laptop.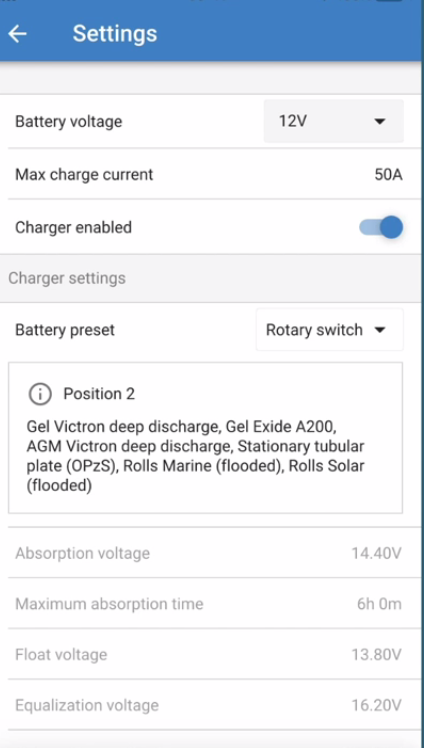 Batteries aren't cheap. Over your lifetime, you could easily spend hundreds of dollars on replacement batteries if you don't protect them. What if, instead of having to shell out all that money, you could save those hundreds and get a charger that prolongs the battery's life.
Solar trickle charges are just as reliable and effective as conventional battery chargers but with the added convenience of using solar power. A solar charger can be left on the dash of your car while you are out camping.  Make sure to pick one with overcharge protection and you can leave it on and forget.